The "why?" of yukon dude software is not easily answered. Nevertheless, there is an underlying theme to the company, perhaps best expressed in its mission statement. However, unlike your typical executroid mission statement drivel, yukon dude software takes a different tack: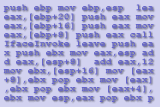 duderonomy_1:1
Learn
Create
Support
Yukon
Or, if you prefer, the slightly-longer version:
The dude revels in the onslaught of technological change.
The dude's software is efficient, sturdy, elegant, and appeals to all five senses.
"Software doesn't rust," as the saying goes, so neither does the dude's maintenance efforts.
It's all done north of 60°, east of 141°, and west of the Selwyns.
There, aren't you glad you asked?