The dude must admit that the content of this "when?" page is a tad arbitrary, but a brief history of this company's brief history seems as appropriate as anything.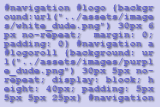 yukon dude software was founded in January 2000 by Dave Rogers, a recent arrival to the Territory. At that point, the company consisted of little more than a lowercase name and a sock puppet logo.
At first, the company's goal was to produce a line of online content management products for ISPs, but the Microsoft-based applications proved too costly to host. Undaunted, the dude converted the entire operation to open source technologies running on the GNU/Linux operating system.
While the content management idea eventually proved a bust—and has now been done to death by any number of dot-coms—the dude has since found a niche in writing the software that powers websites.