It is at this point that most software development websites talk at length about delivering "powerful" and "flexible" business "solutions" with "exciting" leading-edge features that somehow "enhance shareholder equity" through "innovative" new "paradigms" of "experiential user-interface" all constructed by "world-class" programming talent.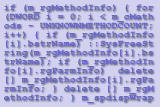 The dude prefers to be succinct: "he's good at what he does."
contract_services
And what the dude is good at is developing software for small and medium-sized projects. From web applications, to desktop database interfaces, to embedded systems, the chances are good that the dude either knows the technology, can find people who do, or will just pick it up over the weekend.
what_the_dude_don't_do
yukon dude software does not host websites, nor does it offer web design services. However, the dude can either point you in the direction of people and companies who do that sort of thing, or can subcontract out those services on your behalf.
projects
When not working for clients, the dude dabbles with sundry programming projects. Most of these are released into the wild as either Open Source or Public Domain code, meaning that anyone can use 'em and change 'em.